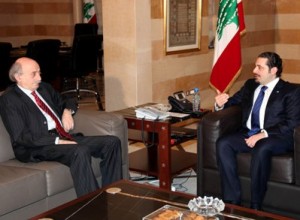 Progressive Socialist Party leader MP Walid Jumblatt said on Monday after holding talks at the Grand Serail with Prime Minister Saad Hariri that
calm political rhetoric will allow the Lebanese to reach all political and developmental solutions.
He also said : "Special Tribunal for Lebanon (STL) exists, but we have to be to be wary of its repercussions," according to a statement issued by the PM's press office.
The meeting focused on general developments in Lebanon.
Tension ran high in Lebanon after reports said that the STL would soon issue its indictment in the 2005 assassination of former PM Rafik Hariri.
Commenting on his Sunday statement that it would have been better if the STL had never existed, Jumblatt said, "That statement is for history, and we now speak for the future."
During a luncheon honoring Russian Ambassador Sergei Poukine on Sunday (on the occasion of the end of his mission to Lebanon), Jumblatt said ' I wish we did not have the tribunal'.