Gemayel: Lebanon cannot survive without justice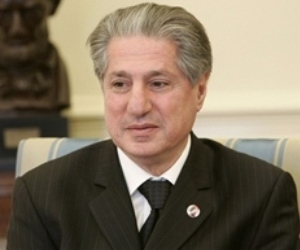 "If our choice is either the Special Tribunal for Lebanon (STL) with some incidents on the ground, or no tribunal, we will choose the STL no matter what the ramifications are ," Phalange Party leader Amin Gemayel told MTV on Sunday stressing that the State cannot survive without justice
Gemayel warned on Sunday that Lebanon is facing "more than one coup."
The other side is not doing anything productive by issuing insults "and we do not know what their alternative to the STL is," Gemayel said, asking "is the alternative the destruction of the state and returning to the era of (Syrian) tutelage?"
"We feel as if this is the beginning of a regime change to a rejected alternative" he said.
Addressing Hezbollah, Gemayel said: "I am sincere in the invitation, Let us sit down together with Hezbollah as long as they are sure of their innocence, and I am ready to take an initiative and find a way out of the crisis."
"Any settlement, however, should not be at the expense of the truth," Gemayel stressed.
Gemayel's comment came after MP Walid Jumblatt said Sunday ' I wish we did not have the tribunal'.
Jumblatt was referring to the Special Tribunal for Lebanon (STL).
STL was formed by the UN to identify and to try the killers of Lebanon's former prime minister Rafik Hariri and the related crimes .
Jumblatt added that it would have been better if the Tribunal had never existed.
Jumblatt who was one of the most outspoken Lebanese leaders in defense of the tribunal ( following Hariri's assassination) is concerned that should STL indict Hezbollah members, this could lead to a Sunni-Shiite conflict similar to the one that brought the country to the brink of civil war in May 2008.