13 dead as Polish tourist bus crashes in Germany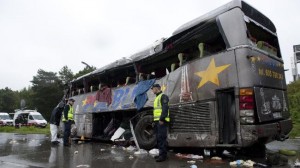 A POLISH tourist bus returning from Spain careered into a bridge on a rain-soaked German highway today, killing 12 people and leaving seven in critical condition.
"A car collided with a Polish tourist coach… (which) then lost control and crashed with full force into the bridge pillar," fire brigade spokesman Arne Feuring told news channel N24 at the scene.
"This was a very large operation for us…. In total there were more than 300 members of the emergency services in action at the scene."
One of those in critical condition was the driver of the Mercedes that first collided with the bus. Polish media reports said the driver was a 37-year-old woman.
Seven people were fighting for their lives after being airlifted by helicopter to nearby hospitals. The accident occurred not far from Berlin's Schoenefeld airport, south of the capital.
Start of sidebar. Skip to end of sidebar.
End of sidebar. Return to start of sidebar.
The driver of the coach was hurt, but his injuries were not reported to be life-threatening.
Unconfirmed news reports said the injured also included two children.
The gray bus, operated by coach company Pol-Bus, had 46 people on board, according to Polish media reports.
Police spokesman Jens Quitschke said the coach was on its way back to Poland from Spain and that it was carrying people of all ages.
Television pictures showed that part of the front windscreen of the coach was smashed, while the injured were being carried on stretchers to tents specially set up at the scene.
Those physically unhurt in the accident were being treated for shock.