Clinton to stress US commitment to Lebanon sovereignty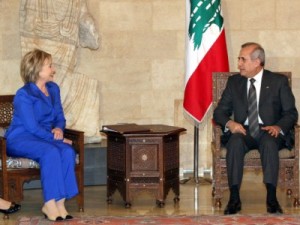 An Nahar newspaper reported Thursday.that President Michel Suleiman will meet U.S. Secretary of State Hillary Clinton on Friday on the sidelines of the U.N. General Assembly session in New York.
Clinton will stress to Suleiman "our commitment to Lebanon's sovereignty and independence and the Special Tribunal for Lebanon," a State Department official told An Nahar.
She will reiterate that Washington "is committed to strengthen Lebanese state institutions to support stability in Lebanon and the region," the official said.
First Lady Wafa Suleiman and a ministerial delegation consisting of Ali al-Shami, Ziad Baroud, Ghazi Aridi and Salim Wardeh are reportedly accompanying Suleiman in his visit to New York.
Other than attending the General Assembly session, Suleiman will attend a Security Council meeting where he is expected to deliver a speech rejecting the naturalization of Palestinians in Lebanon and urging the world community to pressure Israel into ending its repeated threats.