Hariri confirms Saqr's disclosure of Sayyed's blackmail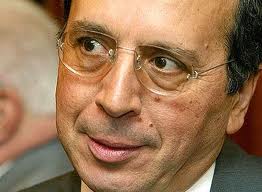 Prime Minister Saad Hariri's political adviser Mustafa Nasser confirmed that he had conveyed to the PM an offer from Brig. Gen. Jamil Sayyed that stipulated Hariri pays $7.5 million in return for Sayyed to give up the lawsuits he had filed, al-Liwaa newspaper reported Tuesday.
Al-Liwaa, citing political sources, quoted Nasser as saying: "This is a fact and it took place in the presence of a Hezbollah official."
MP Oqab Saqr had accused Sayyed, former head of Lebanon's General Security Department, of trying to blackmail Hariri over cash-for dropping case.
He said Sayyed dispatched a "mediator" to Hariri asking for $15 million in return for giving up the lawsuits.
But Saqr said that when Hariri rejected Sayyed's offer, the envoy returned to reduce the blackmail by half.
"That person came back asking for $7.5 million. But Hariri, again, told him "I reject this kind of cheap settlement,'" Saqr said.
Meanwhile, Future MPs told Al-Hayat newspaper that Hariri confirmed during Monday's meeting with his Future parliamentary bloc that remarks made by MP Oqab Saqr on Monday were "true."
Sayyed along with 3 other generals was detained from 2005 to 2009 on suspicion of involvement in former PM Rafik Hariri's murder. In April 2009, the Special Tribunal for Lebanon (STL ) ordered their release without charges due to insufficient evidence. STL prosecutor made it clear at the time they were set free that their release did not mean they are Innocent and that once more evidence is available they could be back in jail.
MP Oqab Saqr also  on Monday accused Sayyed of fabricating the story published by German magazine Der Spiegel last year about the alleged involvement of Hezbollah in former PM Rafik Hariri's assassination.
"What was published by the German Der Spiegel was fabricated by Jamil Sayyed," Saqr said during a press conference.
According to observers , if Saqr is correct in his accusations of Sayyed then this could point to a revival of the accusations against Syria of being behind Hariri's murder
The observers believe that Sayyed , a close ally of the Syrian regime may have attempted in his disclosures to Der Spiegel to exonerate Syria from the accusation of being behind Hariri's assassination.
The irony here is that Hezbollah tried to protect Sayyed from being summoned by the Lebanese judiciary.
Naharnet