Saqr accuses Sayyed of being behind the Der Spiegel report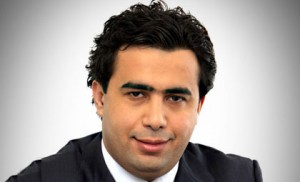 Lebanon First parliamentary bloc MP Oqab Saqr on Monday accused former General Security Department chief Maj. Gen. Jamil Sayyed of fabricating the story published by German magazine Der Spiegel last year about the alleged involvement of Hezbollah in former PM Rafik Hariri's assassination.
The report at the time had quoted sources close to the international tribunal and said it had examined internal documents.
"What was published by the German Der Spiegel was fabricated by Jamil Sayyed," Saqr said during a press conference.
"We don't want an apology from Hezbollah but we want the Lebanese to know … who spread the rumor" to Der Spiegel, the lawmaker said.
Last week, Saqr accused Sayyed of dispatching a man to Premier Saad Hariri asking for $15 million in return for giving up his case. "The mediator who asked for a financial settlement for Sayyed was Mustafa Nasser," the MP said during his press conference on Monday.
Saqr urged Hezbollah to beware and not to play with fire saying there were attempts to ignite Shiite-Sunni strife in the region, including Lebanon.
He also urged Nasrallah to "extend his arm" as Hariri has done and stop his "attempted coup" to avoid civil war.
Turning to the issue of false witnesses, Saqr said the March 14 forces want to know who fabricated them. Let Syrian authorities question Hussam Hussam, who is currently in Syria, to know who was behind him, the MP told Sayyed.
Sayyed along with 3 other generals was detained from 2005 to 2009 on suspicion of involvement in former PM Rafik Hariri's murder. In April 2009, the Special Tribunal for Lebanon (STL ) ordered their release without charges due to insufficient evidence. STL prosecutor made it clear at the time they were set free that their release did not mean they are Innocent and that once more evidence is available they could be back in jail.
The Der Spiegel report was published on May, 23 , 2009 several weeks following the release of Sayyed from jail.
According to observers , if Saqr is correct in his accusations of Sayyed then this could point to a revival of the accusations against Syria of being behind Hariri's murder
The observers believe that Sayyed , a close ally of the Syrian regime may have attempted in his disclosures to Der Spiegel to exonerate Syria from the accusation of being behind Hariri's assassination.
The irony here is that Hezbollah tried to protect Sayyed from being summoned by the Lebanese judiciary.
Hezbollah issued a statement on Friday in which it called on the judiciary to revoke Attorney General Judge Said Mirza's decision to summon Sayyed for questioning after Sayyed said on September 12 that "[Prime Minister Saad Hariri] should take a lie detector test to prove he did not support or fund false witnesses in the Special Tribunal for Lebanon (STL)." The former General Security chief also threatened to take his right "with his own hands" if Hariri did not give it to him.