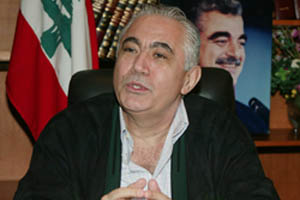 Future Movement parliamentary bloc MP Ammar Houri revealed on Monday that Prime Minister Saad Hariri had informed the bloc that he will not back down from supporting the Special Tribunal for Lebanon.
"There will be no turning back from the Special Tribunal for Lebanon (STL)", Houri quoted Hariri as saying.
Houri told Voice of Lebanon radio after a meeting for the Future movement that Hariri also stressed maintaining openness in relations with Syria and standing by all what he stated in his Asharq al-Awsat interview, continued the MP.
Houri quoted Hariri as saying: "I, as prime minister, am committed to this strategic relationship with Syria that is built on ties between a state and another."
The MP revealed that Hariri intends on holding talks with President Michel Suleiman, House Speaker Nabih Berri, and a number of political figures, starting with the March 14 forces leadership.
The prime minister is also expected to address the Lebanese in a day or two, added Houri.
Hariri met Lebanese president Michel Suleiman at the Baabda palace following his meeting with his bloc and is now meeting with Speaker Nabih Berri at ain el Tinah