Rifi tells Sayyed: Prisons are made for you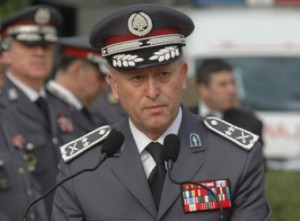 Lebanon Internal Security chief Gen. Ashraf Rifi told Maj. Gen. Jamil Sayyed on Saturday in a statement:"Prisons are made for you and people like you and for killers under your protection."
"We will face you (Sayyed) in court and we will carry on our drive," Rifi added.
Rifi was responding to Sayyed's attacks during his speech at the airport after returning from Paris
Rifi said State Prosecutor Said Mirza and Police Intelligence chief Wissam al-Hasan deserve "medals on their chests."
He told Sayyed your yelling will not work
"Sayyed is yelling to distract Lebanon from the issue of the assassinations that struck the country after 2005, but he will not succeed," the ISF chief added.
"We are confident that we will soon see the killers behind bars," he stressed.
Sayyed last night launched an attack against Prime Minister Saad Hariri, Attorney General Said Mirza, Police Chief Gen. Ashraf Rifi and Detliv Mhelis, former head of the U.N. investigation into the assassination of former PM Rafik Hariri.
"There is no indictment before Mhelis, Rifi and Mirza are tried," he warned from Beirut airport.
Sayyed is a wanted man in Lebanon. Attorney General Judge Said Mirza demanded on Thursday summoning Sayyed for threatening State security and Prime Minister Saad Hariri.
Sayyed along with 3 other generals was detained from 2005 to 2009 on suspicion of involvement in former PM Rafik Hariri's murder. In April 2009, the Special Tribunal for Lebanon (STL ) ordered their release without charges due to insufficient evidence. STL prosecutor made it clear at the time they were set free that their release did not mean they are Innocent and that once more evidence is available they could be back in jail.
In a challenge to the Lebanese authorities Hezbollah met Sayyed at the airport to prevent his arrest and escorted him home. According to reports Hezbollah was preparing for a coup in the event that Sayyed was arrested and had thousands of gunmen deployed throughout the capital in preparation for such an event.
MP Okab Sakr told VOL following the arrival of Sayyed at the airport: "Beirut airport was occupied by an outlaw under the protection of groups of outlaws."
He described Hezbollah's support for Maj. Gen. Jamil Sayyed as a "symbol of fragmenting the state."