Fatfat: Hezbollah is a militia not a resistance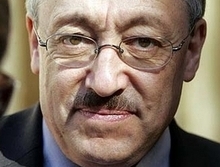 Lebanon First bloc MP Ahmad Fatfat said in an interview with Al-Mustaqbal newspaper published on Sunday that "Hezbollah is not a resistance but has proven to be a militia that seeks to carry out a coup."
He added : The problem is not with Sayyed but with how Hezbollah is dealing with the matter, the MP also said, adding that the confrontation will be political.
Hezbollah issued a statement on Friday that Attorney General Judge Said Mirza's request to summon former General Security chief Jamil Sayyed was "political par excellence" and called on the judiciary to revoke its decision.
Vehicles with Hezbollah gunmen have reportedly welcomed former Sayyed at a tarmac at Beirut airport and took him to the VIP lounge that he used without a previous permit from the foreign ministry, in what was described as "an invasion of the airport."
MP Okab Sakr told VOL following the arrival of Sayyed at the airport: "Beirut airport was occupied by an outlaw under the protection of groups of outlaws."
He described Hezbollah's support for Maj. Gen. Jamil Sayyed as a "symbol of fragmenting the state."
During a press conference last week, Sayyed warned Prime Minister Saad Hariri to "give me my right, [or] I swear on my honor that I [will] take it with my own hands." The former General Security chief also called on the people to "revolt against authority and attack officials in their houses."
Sayyed along with 3 other generals was detained from 2005 to 2009 on suspicion of involvement in former PM Rafik Hariri's murder. In April 2009, the Special Tribunal for Lebanon (STL ) ordered their release without charges due to insufficient evidence. STL prosecutor made it clear at the time they were set free that their release did not mean they are Innocent and that once more evidence is available they could be back in jail.
Sayyed arrived in Beirut from Paris on Saturday afternoon. During his press conference at the lounge, the former security chief launched a vehement attack against Prime Minister Saad Hariri, State Prosecutor Saeed Mirza, Police Chief Maj. Gen. Ashraf Rifi and Detlev Mehlis, former head of the U.N. investigation into the assassination of ex-PM Rafik Hariri.
Head of Hezbollah's Security and Liaison Committee, Wafiq Safa, and his bodyguards were inside one of the vehicles which took Sayyed from the runway to the VIP lounge and then to this home, An Nahar said.
According to reports Hezbollah was preparing for a coup in the event that Sayyed was arrested and had thousands of gunmen deployed throughout the capital and the coastal areas in preparation for such an event.
Lebanon Internal Security chief Gen. Ashraf Rifi slammed Maj. Gen. Jamil Sayyed on Saturday in a statement:"Prisons are made for you and people like you and for killers under your protection."