Iran frees American woman on $500k bail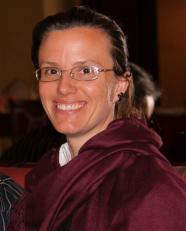 An American woman released by Iran on Tuesday after more than a year in prison flew out of the country to the nearby Gulf nation of Oman to be reunited with her mother after a $500,000 bail was paid to win her freedom.
However, the case that has deepened strains between the U.S. and Iran was still far from resolved. Iranian authorities said they are not considering the immediate release of the two Americans arrested with 32-year-old Sarah Shourd. Iran has charged all three with spying, though their families say they were innocent hikers arrested in a scenic mountain area along Iran's border with Iraq.
The families of the three said they are relieved over Shourd's release, but heartbroken her two friends remain in custody. They applauded Iranian authorities for showing compassion for Shourd and called on the government to immediately release her companions, saying Shane Bauer and Josh Fattal "deserve to come home too."
Shourd's mother Nora said she has prayed for her daughter's release for 410 days and can't wait to "wrap Sarah in my arms and hold her close." Nora Shourd says she will ensure her daughter the space she needs to recover from her ordeal.
Iranian President Mahmoud Ahmadinejad has said Shourd was being released on compassionate grounds because of health reasons. Her mother says she has serious medical problems, including a breast lump and precancerous cervical cells.
A U.S. official said Shourd's flight took off from Iran en route to Oman, about a two-hour flight. Her mother was awaiting her arrival in Oman.
Tehran's chief prosecutor Abbas Jafari Dowlatabadi said a $500,000 bail had been paid to Iran's Bank Melli in Muscat, Oman but it was not immediately clear who paid it. A U.S. official said neither the U.S. government nor the families of the hikers had paid the bail, but could not say who else might have paid it.
Both U.S. officials spoke on condition of anonymity because of the sensitivity of the issue.
The release followed days of conflicting statements by Iranian authorities on whether she would be let go. The decision got mired in internal political feuds among Iran's leadership and questions over whether the family could raise the bail money and if it did, would the payment violate sanctions against Iran.
Shortly after Iranian state media announced Shourd's release, the country's hardline judiciary said the "pretrial detention" of Bauer and Fattal had been extended for two more months. Shourd and Bauer are engaged to be married.
"The judge issued the release order and Ms. Shourd was simply set free and she can leave Iran if she wants to," he told state-run English-language Press TV. He said the cases of the two American men, both 28, will be sent to the revolutionary court and "there is no talk of releasing those two right now."
Iran indicted the three Americans on spy-related charges on Sunday and the prosecutor's statement suggested the men would face trials while proceedings against Shourd could be held in absentia.
The U.S. broke off ties with Iran after the 1979 Islamic Revolution, and Switzerland handles U.S. interests in Iran.
Shourd, who grew up in Los Angeles, Bauer, who grew up in Onamia, Minn., and Fattal, who grew up in Elkins Park, Pa., were detained along the Iran-Iraq border on July 31, 2009 and accused of illegally crossing the border and spying in a case that has deepened tensions with Washington. Their families say they were hiking in Iraq's scenic north, and that if they crossed the border, they did so unwittingly.
The stage was set for Shourd's release last week when Ahmadinejad said he intervened as a gesture of Islamic compassion at the end of the holy month of Ramadan. However, the judiciary quickly upstaged the president by saying it was in charge of the case and would set the rules — in the form of the largest known bail for any high-profile Westerner jailed in the past year.
Shortly after judicial officials announced the bail on Sunday, Shourd's lawyer predicted she could walk free in "two or three days."
Moves to release Shourd have been accompanied by political jockeying in Iran between Ahmadinejad and his more conservative rivals.
On Monday, Shourd's family asked the Iranians to drop or lower the demanded sum because they were having difficulty raising the money.
U.S. sanctions put blanket restrictions on transactions with Iran's main state bank, Bank Melli, which has also been the channel for past bail payments to Iranian courts by foreign detainees. Washington accuses the bank of helping fund Iran's ballistic missile development and its nuclear program, which the U.S. says could eventually lead to atomic weapons. Iran says it only seeks peaceful nuclear reactors for energy.
U.N. sanctions also call on governments to block transactions with Melli and another major Iranian financial institution, Bank Saderat, if there are "reasonable grounds" they could contribute to Iran's nuclear activities. AP