Sakr: Sayyed lost some of his memory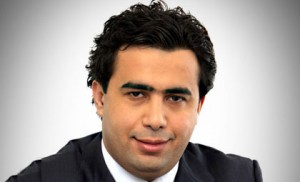 March 14 MP Okab Sakr said during an interview with the March 14 alliance website published on Sunday that former head of Lebanon's General Security Directorate Jamil as-Sayyed's allegations are illogical.
During a press conference on Sunday, Sayyed said that " Prime Minister Saad Hariri should take a lie detector test to prove that he did not support or fund false witnesses in the Special Tribunal for Lebanon (STL)] and should admit that he sold his father's blood for four years in order to implement the New Middle East project," a reference to US policy in the region.
Sayyed is one of the four generals detained in Lebanon from 2005 to 2009. In April 2009, the STL ordered his release due to insufficient evidence. In July 2010, the STL held a public hearing over Sayyed's request for documents related to his imprisonment.
"Sayyed has lost some of his memory and his psychological state is getting worse," Sakr added, saying that the former's state of mind has deteriorated since he lost power as head of General Security.
The MP added that Sayyed's history does not permit him to speak of integrity and chastity. Sayyed wants to turn his personal problems into a public problem, Sakr also said.
He added that he agrees with Sayyed's statement that there is no real government in Lebanon, saying that the latter would have been summoned for questioning or possibly even arrested over his threatening comments if there was a real government.
"Sayyed's statements do not [reflect Syrian] President Bashar al-Assad and Hezbollah Secretary General Sayyed Hassan Nasrallah's positions," the MP said, adding that the statements are politically insignificant.
$15 million
Sakr told New TV on Sunday that Sayyed requested a $15 million settlement from Prime Minister Saad Hariri to drop his lawsuit against Lebanese and Syrian public figures.
Sayyed in December 2009 filed a lawsuit in Damascus against a number of Syrian and Lebanese officials, accusing them of slander, falsifying testimonies and depriving him of his freedom.
Sakr quoted Hariri as saying that he "rejects such cheap settlements."
Meanwhile, the MP told MTV on Sunday that "Sayyed falsified the facts," adding that the latter's history is dark.
Sark also called on Sayyed to apologize to those he offended before asking for apologies.
Sayyed's attack
Sayyed on Sunday launched a vehement attack against Prime Minister Saad Hariri for saying it was a mistake to accuse Syria of involvement in his father's assassination.
"After all you have done to Syria, (Syrian President) Bashar Assad hugged you rather than hanging you to death," Sayyed said during a press conference addressing Hariri.
"It's not enough for Hariri to admit that he erred, he has to pay the price of his mistakes," sayyed told reporters about Hariri's latest statement to pan-Arab daily Asharq al-Awsat.
"At a certain stage we made mistakes and accused Syria of assassinating the martyred premier. This was a political accusation, and this political accusation has finished," Hariri told the newspaper earlier in the week.
Accusations against Syria were not political, they were crimes of slander that require trial, according to the former general.
He also slammed the premier's supporters for denying there were false witnesses in Hariri's murder case, saying all those who have lied during an investigation are called false witnesses although "they are nonexistent for the Hariri team."
Sayyed said the tribunal doesn't want to prosecute the false witnesses because "big heads would roll."
"I swear to you Saad Hariri that I would take my rights with my own hands someday if you don't give them back to me," he vowed.
According tom observers Hariri did not say Syria did not kill his dad , all he said that the accusations against Syria were premature and political. No one yet knows who will be indicted . STL prosecutor Daniel Bellemare confirmed during an interview last month that all the rumors about the indictments are strictly speculation , since he has not drafted the indictments as of Aug 31, 2010