Pastor says God telling church not to burn Quran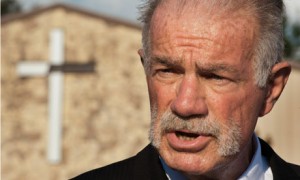 Pastor Terry Jones said Saturday that neither he nor his church would follow through on plans to burn copies of the Quran. In an appearance on NBC's "Today" show, Jones said repeatedly that the event, scheduled to coincide with Saturday's ninth anniversary of the Sept. 11 terrorist attacks, was canceled and would not take place at any time. "Not today, not ever," he said.
"We feel that God is telling us to stop," he said.
Jones arrived in New York late Friday, after slipping out of his Dove World Outreach Center church in Gainesville. He said he was in New York in hopes of speaking with Imam Feisal Abdul Rauf, leader of the proposed Islamic center and mosque near Ground Zero. But Jones acknowledged no meeting was scheduled.
He said in his TV interview that whether or not a meeting occurred, the Quran burning would not take place. Jones added that the response to his now-canceled plans to burn copies of the Quran — including riots in Afghanistan that left at least one person dead — helped him achieve his goal of raising awareness about Islam.
U.S. President Barack Obama said the Quran-burning plan would endanger American troops overseas, tens of thousands of them in Muslim countries. Mr. Obama appealed for religious tolerance, and said the United States is "not at war against Islam," but "against terrorist organizations that have distorted Islam." NYT