Lebanon Police warns Sayyed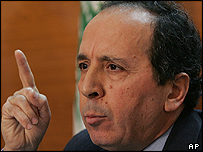 Lebanese Police hit back at former head of the General Security Department Maj. Gen. Jamil Sayyed, warning him that the Internal Security Forces will not stand idle in the face of his threats.
"Sayyed's announcement is nothing but an attempt to confuse (performance levels in) ISF operations and the Intelligence Bureau," a senior police officer said in remarks published Monday by Ad-Diyar newspaper.
"We know Sayyed very well. When the Syrians would get angry at him, he would turn up like a chick," the officer recalled.
He said that police have arrested several suspects — close to Sayyed — on charges of spying for Israel, specifically former Security Services Brig. Gen. Adib al-Alam.
"But if we were dealing politely, we would tell him (Sayyed) that if someone steps on our foot we shall step on his neck," the officer warned.
Sayyed is one of the four generals detained in Lebanon from 2005 to 2009. In April 2009, the Special tribunal for Lebanon (STL) ordered his release due to insufficient evidence. In July 2010, the STL held a public hearing over Sayyed's request for documents related to his imprisonment.