5 family members killed in a Traffic accident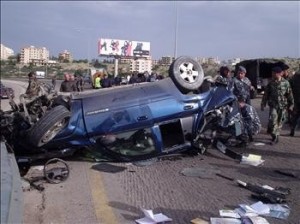 Five family members were killed in a traffic accident in Damour village near al-Jisr beach resort on the highway that links Beirut to south Lebanon
National News Agency said the family's four-wheeler overturned after one of its tires ruptured, killing all five of them.
The victims were identified as : Raghibeh Ismail, 56, her son Hazem Jahjah, 38, his wife Rana Atwi, 31, and their one year-old and three-year-old children.
The accident occurred on the same highway on which six people were killed and 20 others injured last Tuesday in a traffic accident involving several trucks and other vehicles in Jiyeh , south of Beirut.