Baroud: Drivers have turned into killers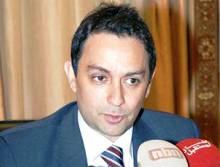 Lebanon's Interior Minister Ziad Baroud announced on Tuesday immediate and long-term measures to deal with traffic accidents in the country .
This comes after the horrific accident that took place yesterday on the Jiyeh highway, south of Beirut. At least six people were killed and 20 others injured in a traffic accident involving several trucks and other vehicles.. A Lebanese soldier was among the dead.
"There is a dual responsibility: on the citizen who must respect the traffic law and judicial authorities that we hope would take further preventative measures so that violators fell there is more and more control," Baroud told a news conference at his office.
"Drivers have turned into killers and politicians should not protect any perpetrator no matter what," said Baroud in the presence of Police chief Gen. Ashraf Rifi.
Baroud said he adopted new measures to cope with traffic accidents — immediate and long-term.
He said radars are on the list of immediate measures to control speed.
Baroud said he asked Rifi to reprimand policemen for negligence.
Regarding long-term measures, Baroud said fines would double, noting that he had demanded to increase fines by 5 times, but we have settled for three folds when five times was even little," Baroud added.
He called on the various political leaders to refrain from protecting any traffic violator "no matter what."