Suicide bomber kills five in southern Russia
At least five people were killed and 39 wounded on Sunday when a suicide bomber attacked troops at a firing range in Russia's southern region of Dagestan, sources in official security agencies said.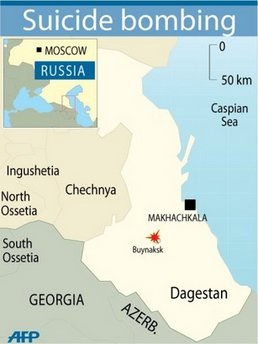 The bomber detonated a car packed with explosives at the firing range outside the town of Buynaksk, about 50 km (30 miles) west of the local capital Makhachkala, said the sources, who declined to be identified.
Russian President Dmitry Medvedev has ordered measures to help families of those affected in Sunday's attack, the Kremlin's press service said.
"Dmitry Medvedev has ordered help and medical assistance for the families of those killed and injured in the attack," a Kremlin spokesman said.
Reuters