Aoun attacks Lebanon government & president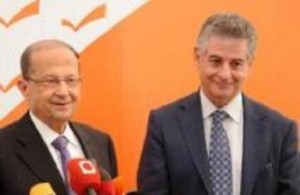 Free Patriotic Movement leader MP Michel Aoun attacked the government in a televised speech on Sunday and called for resignations of several ministers.
He also criticized president Michel Suleiman .
"For some time we have been telling the government that it is violating the law, but it is as if they are not listening."
Aoun said that the Internal Security Forces (ISF) Information Branch is an "illegitimate branch ", "kidnaps people for months," and "spreads rumors about people."
His criticism comes as a possible reference to the branch's August 5 arrest of retired Brigadier General Fayez Karam ( pictured with Aoun) on charges of spying for Israel
Karam who is also a senior FPM official, was charged with espionage and providing the Jewish state with information on Hezbollah.
Aoun has repeatedly condemned authorities over the issue of leaks to the media on the investigation.
"Who is this branch responsible to?… Is Interior Minister [Ziad Baroud] asleep?" he asked.
Aoun also said that even though Justice Minister Ibrahim Najjar is responsible for keeping investigations confidential, rumors have spread. He criticized Information Minister Tarek Mitri and Defense Minister Elias al-Murr over the investigations as well.
"Are all these ministers sleeping?" Aoun said, asking, "What are they waiting for to resign?"
Karam and Aoun went into exile in France following Aoun's defeat by the Syrian army in 1990 and both returned to Lebanon in May 2005 , 11 days following the withdrawal of the Syrian army from Lebanon.
Based on articles 274-278 of the Lebanese law , those convicted of spying for Israel could face the death sentence.
Aoun also questioned the transparency of government expenditure and the activities of the Finance Ministry and Prime Minister Saad Hariri.
He also asked : "Is President Michel Suleiman doing anything other than weeping."
It is "necessary to see dismissals and resignations starting today," the FPM leader said.
Aoun also criticized calls arms and militia free Beirut , saying a weapons-free country would be in danger from Israel.
March 14 alliance and some FPM officials called for an arms-free and militia Beirut following the bloody street battle that shook the Borj Abi Haidar neighborhood in the Lebanese capital on August 24, pitting supporters of the Iranian backed Hezbollah against the pro-Syrian Al-Ahbash militants —also known as the Association of Islamic Charitable Projects. 3 people were killed in the clash including a Hezbollah senior official.
Aoun who was very critical of Hezbollah while in exile in France has been a close ally of the Iranian backed group since 2006.
Lebanese Forces leader Samir Geagea said that last week's Borj Abi Haidar clashes harmed Hezbollah's image, adding that the violence revealed that the party has a military presence in the capital that cannot be justified or accepted, according to a statement issued last Wednesday by Geagea's office.
Geagea also said last Friday that Hezbollah's arms "serve other interests. "
"As far as we know the resistance should be in occupied territories. Is Beirut occupied?" Geagea asked.
Former Lebanese president and Phalange party leader Amin Gemayel said today : "They say weapons are in the best interest of the State. Where is the interest of the country in Borj Abi Haidar incident and Shehabiyeh explosions? What are weapons there for?"
Last Friday a large explosion rocked a village in southern Lebanon .The explosion took place inside the village of Shehabiyeh , near the border with Israel at an arms depot for Hezbollah.
The explosion was reportedly the result of a fire that detonated eight rocket shells, several hand grenades, and two gas containers, according to Reuters