Hezbollah, Al Ahbash chiefs meet over Borj Abi Haidar incident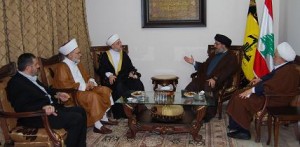 Hezbollah chief Sayyed Hassan Nasrallah and al-Ahbash leader Sheikh Hussam Qaraqira stressed they would make efforts to help the investigation that is being carried out by the Lebanese army into the Borj Abi Haidar clashes, according to a statement by Hezbollah 's media office.
The statement also said that the two leaders also stressed during their meeting the importance of the army's role in safeguarding security.
They rejected verbal attacks against it.
The statement said that Nasrallah and Qaraqira confirmed the clashes last week between Hezbollah and al-Ahbash gunmen in Borj Abi Haidar "had no political background and were not sectarian in nature ."
The two sides agreed to take all measures necessary to prevent the recurrence of similar deadly incidents and decided to form a joint committee to compensate for those who sustained damages during the clashes.
This comes after the clash that took place last Tuesday night in the Beirut neighborhood of Borj Abi Haidar between supporters of the pro-Syrian Association of Islamic Charitable Projects—also known as Al-Ahbash—and the Iranian backed Hezbollah militants , leading to the death of three people, including Hezbollah official Mohammad Fawwaz, his body guard and an Al-Ahbash member who is the son of a Beirut Mukhtar.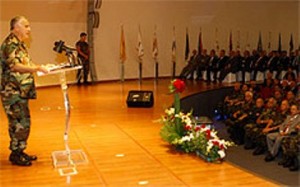 Kahwaji defends LAF role
In a related development Army chief Gen. Jean Kahwaji rejected accusations of slackness by the military in dealing with the Borj Abi Haidar clashes between Hezbollah and al-Ahbash gunmen saying the army doused the fire of strife during the incidents.
The army "carried out all its responsibilities and intervened in the first minutes of the clashes," Kahwaji told As Safir daily in remarks published Monday.
"My instructions to officers were clear that any gunman who does not comply should be shot at," the army chief said.
He told As Safir that the military was able to prevent the flow of gunmen to Borj Abi Haidar and "contain the tension scene." The army and not meetings among politicians ended the battles, Kahwaji stressed.
He urged all sides not to ignite the fire and then in turn ask the army to douse it. "The army through its measures and confrontation of the gunmen was able to douse strife."
Kahwaji also said the military was still pursuing those involved in the clashes, adding that the number of people arrested has so far reached 10.
Hundreds of gunmen were involved in the fighting