Historic reconciliation in the Shouf region
Lebanon President Michel Suleiman said Saturday that the unity of the Mountains is the foundation of Lebanon's unity
Lebanon President Michel Suleiman said Saturday that the unity of the Mountains is the foundation of Lebanon's unity stressing that coexistence should be followed by implementation of the Taef accord and administrative decentralization.
Suleiman's remark came as he sponsored historic reconciliation between the Druze residents of the town of Breeh and displaced Christians that returned to their homes in the presence of Progressive Socialist Party leader MP Walid Jumblatt and MP Talal Arslan at Beiteddine palace.
Breeh, located in a valley near Barouk in the Shouf region was one of the very few villages in the Shouf where Christians and Druze had not yet reconciled since the civil war ended.
Minister of the Displaced Akram Chehayeb , who oversaw the signature of the reconciliation protocol, thanked the government, the president, Jumblatt, and other leaders for facilitating the reconciliation.
Suleiman called on the Christian and Druze delegations to become well acquainted, since their grandfathers had built Lebanon together.
Suleiman said the circumstances that led to fighting and displacement in the Mountains are the same that led to the Borj Abi Haidar incidents earlier in the week. stressing that there have always been some seeking to undermine Lebanon's unity, adding that all Lebanese ought to think hard about the importance of coexistence to their children 's futures.
Progressive Socialist Party leader MP Walid Jumblatt also spoke during the event, calling on those present to forget the past and work to strengthen unity and coexistence for the sake of the future.
"We want to live together," Jumblatt said. "If we separate, the future will neither be yours nor ours … forget about the past."
Earlier, Jumblatt refused discussion of any army shortcoming regarding the Borj Abi Haidar clashes and called for the establishment of neighborhood security committees.
He made his statement after meeting Suleiman at the head of a delegation of Mount Lebanon lawmakers that included MPs Talal Arslan and Dori Chamoun.
Arslan stressed the "coexistence and the unity of the Mountains residents," saying the unity enjoyed among them should be an example to Lebanon and the Lebanese.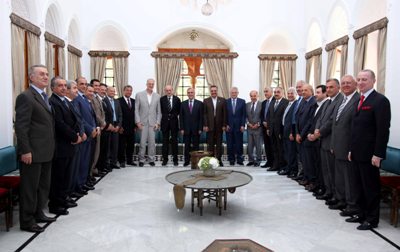 Top Photo :   The historic signing of the reconciliation   between the Druze residents of the town of Breeh and displaced Christians that returned to their homes. courtesy of  Dalati & Nohra