FPM MP : Israel behind Hariri's assassination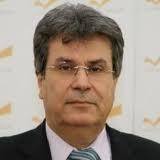 Free Patriotic Movement MP Nabil Nicolas told Hezbollah's Al-Manar television on Sunday that Israeli threats to destroy Lebanon show that Tel Aviv is behind the 2005 assassination of former Prime Minister Rafik Hariri.
His comment comes as a reference to recurring Israeli warnings to Hezbollah and Lebanon and after Hezbollah Secretary General Sayyed Hassan Nasrallah said last July that the Special Tribunal for Lebanon (STL) will indict some of his party members and warned that the tribunal is an "Israeli project" aimed at inciting a domestic strife.
STL was formed by the UN to try the killers of Lebanon's former PM Hariri and related assassinations of anti-Syrian leaders
FPM , which is headed by MP Michel Aoun is closely associated with Hezbollah.
It is in Israel's interests to break up Lebanon, Nicolas said, adding that the Jewish State wants to harm Beirut in ways other than assassinations as well.