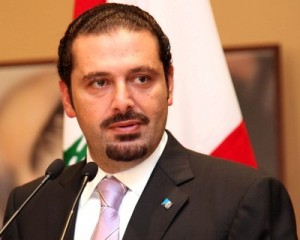 During an an iftar banquet he hosted in honor of families from across the South, Prime Minister Saad Hariri on Wednesday stressed that "it is about time we learn that no matter what happens, no group will be able to defeat the other."
He added: "Everyone is to be blamed – politicians, journalists and TV networks – because the escalation in political rhetoric in the country and the behaviors of some" lead to incidents such as the fierce Hezbollah-Ahbash street battles that took place on Tuesday in the Beirut area of Burj Abi Haidar.
"I ….as Saad Hariri, and as the son of Sidon, Beirut and the South, and the son of whole Lebanon and Rafik Hariri, and as Beirut's representative in Parliament and as a prime minister — stress to you that the widespread of weapons in every street and neighborhood is not acceptable anymore," Hariri added.
There are many conflicting reports about who started the fighting and why . One theory that has been circulating in Beirut during the last 24 hours describes the incident as a proxy fight between Iran and Syria . Michael Young , opinion editor of The Daily Star newspaper says The Burj Abi Haidar battle "was, perhaps, the first armed confrontation between Iran and Syria in Lebanon, through proxies"
This error message is only visible to WordPress admins
Error: No connected account.
Please go to the Instagram Feed settings page to connect an account.