UNIFIL finalizes its report on Lebanese-Israeli clash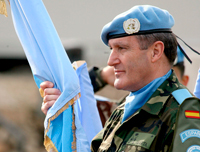 UNIFIL issued a statement on Wednesday announcing the finalization of its report regarding the border clashes that that took place on August 3 between Lebanese and Israeli troops, the National News Agency (NNA) reported.
Lebanese and Israeli troops exchanged fire near the southern village of Adaisseh earlier this month in the fiercest clashes since the 2006 July War. Two Lebanese soldiers, a Lebanese journalist and a senior Israeli officer were killed in the violence.
The statement said that the Lebanese Armed Forces (LAF) and Israel Defense Forces (IDF) fully cooperated with UNIFIL during its investigation in the Aadaiseh clashes.
The report will be sent to relevant parties on Wednesday, the statement added.
UNIFIL Commander Major-General Alberto Asarta Cuevas said: "UNIFIL's investigation report is a result of a professional and impartial work."
"It is based on the facts and all the evidence available to UNIFIL at this stage. We hope this report will assist the parties to prevent the recurrence of such serious and tragic incidents," he added.
"I emphasized to both sides that the incident must remain an isolated event," he stated
The contents of the report were not revealed.
Donation of 39 vehicles
The United Nations Interim Force in Lebanon (UNIFIL) today handed 39 vehicles to the Lebanese armed forces in an effort to boost their capacity to improve security in the south of the country.
Today's delivery of the vehicles to the Lebanese Armed Forces (LAF) at a ceremony at UNIFIL's headquarters in Naqoura follows the donation of 24 cars in April.
Asarta highlighted that the conditions on the ground have significantly improved and the cooperation between UNIFIL and the army has become a "central cornerstone in the implementation of our mandated tasks".
"Our activities could not be implemented without the cooperation of the Lebanese army, which has demonstrated – time and again – its professionalism and commitment to U.N. Security Council resolution 1701 working in close partnership with UNIFIL troops," he said at the ceremony that was attended by Brigadier-General Louis Hanna and Brigadier-General Khalil Msan, the Lebanese army commander in the area south of the Litani.
The UNIFIL Commander added: "Ultimately, UNIFIL's exit strategy is linked to the ability of the Lebanese army to sustainably ensure stability in southern Lebanon".
Brig-Gen Hanna relayed LAF Commander General Jean Kahwaji's "deepest feelings of gratitude and appreciation" to the UNIFIL command donation, which he said is "a clear expression of the ties of cooperation and coordination" between UNIFIL and LAF.