Lebanon president to address UN General Assembly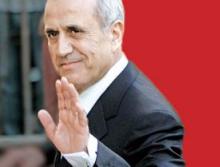 Lebanese President Michel Suleiman will head to New York on September 21 to address the UN General Assembly, Al-Markaziya news agency reported on Monday.
He will be accompanied by a Lebanese ministerial delegation
In his speech at the assembly, Suleiman is expected to talk about the importance of international support for Lebanon to help the country confront upcoming domestic and regional developments, Al-Markaziya also reported.
The president is expected to discuss Lebanese and regional developments with US President Barack Obama and UN Secretary General Ban Ki-moon, the agency added.
Al-Markaziya reported that Suleiman will then head to Mexico upon the invitation of his counterpart, Felipe Calderon.
Suleiman will also participate in the Francophone Summit in Switzerland on October 23, the news agency said, adding that the president will meet with his French counterpart, Nicolas Sarkozy.
Call for calm
President Suleiman on Monday said the situation in Lebanon requires restraint in order to be able to settle key issues.
"Things require a long period of calm so that the State can follow up on several issues through Constitutional institutions, particularly administrative appointments and State budget," Suleiman said during a meeting with a delegation from Editors Association chaired by Vice President Saeed Nassereddine.