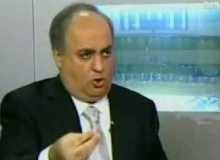 Former minister Wiam Wahab launched another attack against the Special Tribunal for Lebanon (STL) on Sunday. In an interview with NBN TV he said that the March 8 coalition will exert pressure the government if it does not take a stance concerning (STL) and its pending indictment.
Wahab a staunch ally of Syria and Hezbollah called for cutting STL's funding and withdrawing its Lebanese judges.
STL was formed by the UN to try the killers of Lebanon's former PM Rafik Hariri
Wahab also branded the STL as an Israeli tribunal and warned any Lebanese institution against dealing with it
He said "Certain politicians called for postponing the issuing of the indictment until March," he added "Postponing the indictment is worse than issuing it. The government must halt its cooperation with the STL or else sedition will occur."
Wahab who used to attack former PM Fouad Siniora on regular basis praised him today when he attacked Prime Minister Saad Hariri , saying he is not as efficient as Siniora with state administration."
Last week Wahab warned that people supporting sedition in Lebanon will be later "found in car trunks."
As-Sharq al-Awsat newspaper reported on Sunday that Special Tribunal for Lebanon (STL) Prosecutor Daniel Bellemare might delay the issuing of the tribunal's indictment, which was initially expected in September, after Hezbollah submitted its information on the 2005 assassination of former Prime Minister Rafik Hariri.
Asharq al-Awsat was told by its source on Sunday: "Bellemare and his team are dealing very seriously with the documents … and this may take up nearly two months, which means delaying the indictment to late October or mid-November at the latest."
Ali Hussein a political analyst told Ya Libnan: "Both Hezbollah and Syria use Wahab on regular basis to do their dirty work….whatever he has been saying ever since 2004 has always been reflecting the thinking of the Syrian and Hezbollah leadership."
This error message is only visible to WordPress admins
Error: No connected account.
Please go to the Instagram Feed settings page to connect an account.