Hezbollah official denies his party wants to topple STL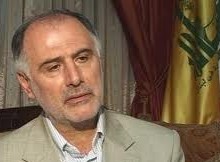 Minister of State for Administrative Reform Mohammed Fneish, a key Hezbollah official denied that his party has called for toppling the international tribunal and reiterated demands to punish false witnesses in former PM Rafik Hariri's assassination .
"Had Hezbollah taken such a decision, it would have issued an official statement," Fneish said in an interview with Kuwaiti al-Rai newspaper.
"Since the international tribunal is saying that it was not within its authorities to punish false witnesses, any other authority should punish them," Fneish said.
Fneish's comment contradicts the remarks made by Hezbollah politburo member Mahmoud Qomati who stressed last Wednesday the party's demand for the elimination of the Special Tribunal for Lebanon STL) .
Qomati said: "The tribunal has been politicized from the start and was initially formed to fulfill interests, and not discover the truth, but bury it."
When asked why Hezbollah leader Sayyed Hassan Nasrallah now chose to present evidence about Israel's alleged involvement in Hariri's murder, the minister said: "We are keen on dealing with this big case with calm … We are keen on implementing justice."
Fneish also claimed that Assistant Secretary of State for Near Eastern Affairs Jeffrey Feltman told MP Walid Jumblatt two months ago about the indictment that will be issued by the Special Tribunal for Lebanon.
"Let no one tell me that Lebanese officials are not aware of the indictment and that Israelis haven't talked about it … Let us not play with people's minds," he told the daily.
Nasrallah's evidence was delivered to STL prosecutor Daniel Bellemare last week and the issue of false witnesses is now being handled by Justice minister Ibrahim Najjar.
Yesterday the Future movement which is headed by PM saad Hariri, son of the slain PM issued a statement in which it said "there is no such thing as a false witnesses file," according to An Nahar .
"A false witness is one who takes the oath before the judge and then backs downs from his pledge" and this is not the case in false witnesses file in the investigation of former Prime Minister Rafik Hariri, the bloc added.
Furthermore the Future statement noted that the investigation is conducted under great secrecy and no individual knows what the witnesses have stated "and therefore there is no false witnesses file to be handed over to Justice Minister Ibrahim Najjar, but only a request to prepare answers to specific questions."