Hezbollah info may delay indictment by 1 -2 months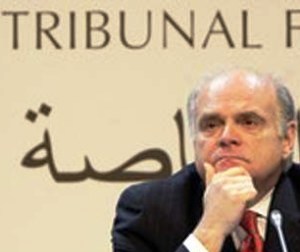 As-Sharq al-Awsat newspaper reported on Sunday that Special Tribunal for Lebanon (STL) Prosecutor Daniel Bellemare might delay the issuing of the tribunal's indictment, which was initially expected in September, after Hezbollah submitted its information on the 2005 assassination of former Prime Minister Rafik Hariri.
Asharq al-Awsat was told by its source on Sunday: "Bellemare and his team are dealing very seriously with the documents … and this may take up nearly two months, which means delaying the indictment to late October or mid-November at the latest."
"The indictment will be issued at the end of the investigation after reaching damning evidence and it will not be related to political developments in Lebanon or the region," the paper added.
Attorney General Judge Said Mirza received last Tuesday from Hezbollah a file containing the information requested last week by the STL pertaining to the murder of Rafik Hariri.