Lebanon's Gaza bound aid ship is now scheduled to depart on Aug 29
Samar al-Hajj, coordinator of the Gaza bound Mariam aid ship said on Saturday that the ship is now scheduled to depart Tripoli port on August 29, instead of Aug 22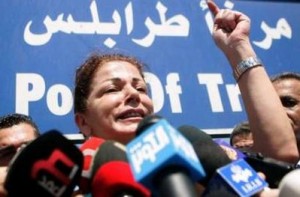 since Cyprus has refused to allow the ship to dock at its ports ., adding that contacts are ongoing with countries near Gaza in order to acquire permission for the ship to dock at one of their ports.
She told LBC: "It seems as if there is universal war against us … We will not allow anyone to cancel the ship's trip."
Hajj added that the ship will not head to Gaza directly from Tripoli, stressing: "The ship cannot be the reason for the start of a war."
Meanwhile, a source from the Cypriot foreign ministry told Ad Diyar Saturday: "Since Cyprus is a member of the European Union and maintains its policies, it will not allow the Mariam to sail to its ports and later head to Gaza in order to avert any problems."
Cyprus' foreign minister had recently toured a number of Arab states explaining his country's position from the ships docking at its ports.
Earlier reports indicated that the ship may sail first to Greece instead of Cyprus and contacts are ongoing to get Greece's approval for docking the ship at one of its ports .
Israel has warned that it will not allow ships to reach Gaza, controlled by the militant Palestinian group Hamas since 2007. Nine pro-Palestinian Turks died on May 31 when Israeli commandos boarded a flotilla of aid vessels heading for Gaza.