Bassil trying to control the oil/gas sector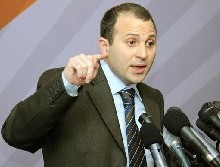 March 14 MP Mohammad Qabbani , who heads up the Public Works and Transportation parliamentary committee told LBC TV on Monday that "a particular minister cannot be the sole authority to make decisions on gas and oil issues .
He was referring to FPM Minister Gebran Bassil. who heads up the ministry of energy and water
"The committee decides and briefs Bassil on its decisions. If the minister disagrees with the committee, he should submit the issue to the cabinet," Qabbani said.
Qabbani comment comes as the draft proposed by the cabinet on offshore oil exploration was reviewed by the joint parliamentary commissions earlier in the month, and will be discussed during Tuesday's parliament session.
Reports said that there are disagreements over the proposal, mainly the extent of authority that should be given to the committee tasked with running the gas and oil sector.
Bassil wanted the committee to play a consulting role, while he approves all major decisions to be carried out by it, a move that was disapproved by several MPs, reports added.