Suleiman , Sfeir meet in Diman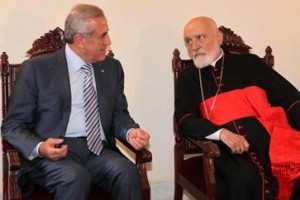 Lebanese President Michel Suleiman, Defense Minister Elias al-Murr and Interior Minister Ziad Baroud headed to Diman on Thursday to attend a mass led by Maronite Patriarch Nasrallah Boutros Sfeir, the National News Agency (NNA) reported.
Following the mass Suleiman and Sfeir held a closed-door meeting at the patriarch's summer headquarters in Diman.
No details were released about the discussions during the closed-door meeting that lasted around one hour.
Later on Thursday, Sfeir held talks with Lebanese Forces MPs Strida Geagea and Elie Keirouz. Talks tackled the local developments in addition to the anticipated visit of Suleiman to the Bsharri area, which is represented by the two MPs in the Lebanese parliament.