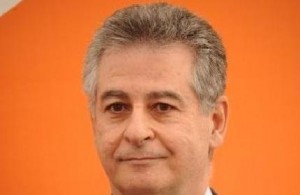 The Lebanese Military magistrate Riad Abu Ghida issued an arrest warrant against retired Lebanese army officer Fayez Karam on charges of spying for Israel after conducting a hearing with him.
Judge Saqr Saqr, a Lebanese military prosecutor charged on Tuesday the Free Patriotic Movement senior official who was formerly an army general with spying for Israel, the first politician to be charged in a widening espionage case.
Saqr then referred Karam to Abu Ghida for for further questioning and for the issuance of the arrest warrant against him.
Karam, 62, was arrested earlier this month on suspicion of spying for Israel.
On Monday, State Prosecutor Saeed Mirza obtained the case file of Karam and referred the file to Saqr after reviewing it.
Karam and Aoun went into exile in France following Aoun's defeat by the Syrian army in 1990 and both returned to Lebanon in May 2005 , 11 days following the withdrawal of the Syrian army from Lebanon.
Based on articles 274-278 of the Lebanese law , those convicted of spying for Israel could face the death sentence.