Defense Ministry tells Aoun: Show us what you know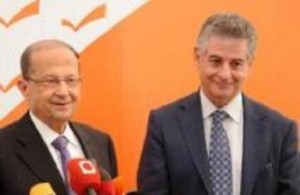 The Defense Ministry issued a statement in response to Free Patriotic Movement leader MP Michel Aoun, who said on Tuesday that he held ministries – including the Defense Ministry – responsible for any leaks on the investigation of arrested Brigadier General Fayez Karam, refuting Aoun's claims.
Aoun said today during a press conference: "I hold the ministries of defense, interior, justice and information responsible for controlling the situation in the country to prevent investigation leaks."
Karam, a senior FPM official, was arrested last week on suspicion of spying Israel.
"If Aoun had any information that could serve the investigation with Karam, he should present it," the Defense Ministry statement said.
Judge Saqr Saqr, a Lebanese military prosecutor charged on Tuesday Karam with spying for Israel, the first politician to be charged in a widening espionage case.
Saqr charged Karam of dealing with "the enemy's intelligence and meeting their officers abroad, and giving them information by phone", according to the charge sheet.
Saqr referred Karam to Military Magistrate Riad Abu Ghida for questioning and the issuance of an arrest warrant against him.
Karam and Aoun went into exile in France following Aoun's defeat by the Syrian army in 1990 and both returned to Lebanon in May 2005 , 11 days following the withdrawal of the Syrian army from Lebanon.