Berri/ Jumblatt: Spies don't belong to any single sect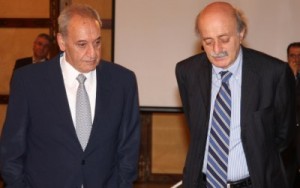 Lebanese Speaker Nabih Berri called for punishing all Lebanese who have collaborated with the Israeli Mossad and urged the judiciary to assume its duties in this regard.
"As long as the issue of spy networks has reached the point of threatening Lebanon, all spies should be punished," Berri told An Nahar daily in remarks published Monday.
Berri said that the spies do not belong to a single religious sect, and urged judicial authorities to carry out their role.
An Nahar said that the speaker ordered the Amal ministers to call in the next cabinet session for the implementation of all judicial rulings against spies.
Similarly MP Walid Jumblatt wrote in his weekly al Anbaa editorial:
"Agents don't belong to any sect or religion but they are only indebted to those who recruit and use them for their own interests, which in this case is Israel."
"Efforts to find agents and spies are a priority that should precede all security, intelligence, and military matters given the great number of infiltrations witnessed in different regions and sects," he added.
Th Progressive Socialist party leader voiced his support for President Michel Suleiman's campaign to strengthen the army.
As Safir reported earlier that Jumblatt stressed "the need to obtain the right weaponry from anywhere or any source in the world."