Yezbeck: Arab leaders must shoulder the responsibility in case of strife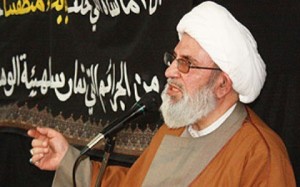 Head of Hezbollah Sharia Board Sheikh Mohammed Yazbek said on Monday that the Arab leaders must shoulder the responsibility in case of any civil strife or any conspiracy against the Resistance.
He called for a speedy resolution, "for the sake of a non-politicized tribunal away from U.S.-Israeli deception and conspiracy against our dignity."
He was referring to the Special Tribunal for Lebanon( STL) and the anticipated indictment of Hezbollah.
He made the comment during a re-conciliatory meeting between the clans of al-Moqdad and Jamaleddine in the Baalbek district town of al-Jamaliyeh.
Yazbek said: "We are innocent … and your Resistance is innocent, and we're keener on the truth than others and we want it revealed."
His comment comes after Hezbollah Secretary General Sayyad Hassan Nasrallah made a number of fiery speeches in July rejecting the tribunal, calling it an Israeli project aiming to incite sectarian conflict in Lebanon.
Nasrallah's recent speeches created tension not seen since May 2008 when the Iranian backed Hezbollah militants occupied western Beirut and tried (but failed ) to occupy Mt Lebanon .
The recent tension prompted the visit by the Saudi and Syrian leaders last Friday to try and calm the situation in Lebanon. Qatari Emir Sheikh Hamad bin Khalifa al-Thani also arrived last Friday on a 3 day official visit with the aim of reducing tension in Lebanon.