Jumblatt to meet Lahoud for first time in 5 years- update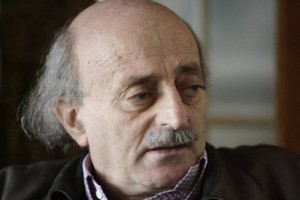 Central News Agency reported Monday that democratic gathering leader MP Walid Jumblatt will be attending a dinner banquet Monday hosted by his arch enemy former President Emile Lahoud, which will also be attended by a number of political and social figures.
The dinner will mark the  first meeting between the two in five years.
Jumblatt was one of the most outspoken leaders against the extension of Lahoud's term imposed by Syrian president Bashar al Assad .  He considered Lahoud a Syrian puppet. His parliamentary bloc voted against the constitutional amendment imposed by Syria to extend the mandate of president Lahoud  in 2004 .
MP Antoine Saad a key member the Democratic Gathering parliamentary bloc was asked to comment about the meeting during an interview with ABN on Monday and said: "This comes as a continuity to the reconciliation of Jumblatt with his former rivals."
Kuwaiti paper al-Anbaa also reported that Jumblatt is also accepting a number of invitations by several western officials to visit their countries in order to hold talks on current developments in Lebanon and the region.
Sources close Jumblatt added that he refused an invitation to Washington, saying he would rather not travel there at the moment.
They also revealed that Jumblatt may postpone a future visit to France in light of French Foreign Minister Bernard Kouchner's recent criticism of Hezbollah.
Jumblatt traveled to France last week to discuss with the country's officials the current developments in Lebanon, including the Special Tribunal for Lebanon (STL) according to Lebanon media.
Update: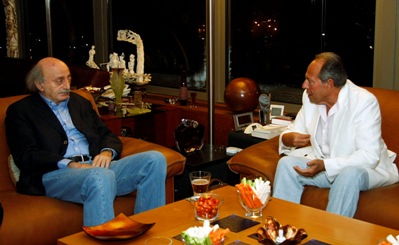 Never say never !!!!
This was a family get together after all !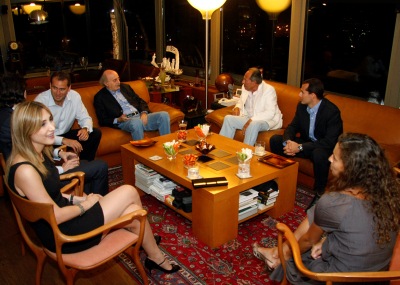 Jumblatt was accompanied by his wife Nora and his son Taymour and Lahoud was accompanied by his wife Andre and his two sons Emile and Ralph.
A statement issued by Lahoud's office said that the former president and his guest recalled the common history of their families, adding that "solid patriotic beliefs" gathered their late fathers Kamal Jumblatt and Jamil Lahoud.
"Lahoud and Jumblatt have found out that their common patriotic denominators provide a meeting space that is free of artificiality and vagueness, even if political stances diverge sometimes," the statement added.
"The unity of Lebanon and its people and the steadfastness of its army and resistance, in addition to consolidating the ties with fraternal Syria and deterring the Israeli enemy's dangerous, sponsored and expansionist schemes in Lebanon, Palestine and the region are common denominators for the same national struggle that gathers the two men." The statement said
Lahoud and Jumblatt hoped the close ties between their two families would be passed on to their children and grandchildren "who are continuing on the same path of national dignity."