Berri joins Hezbollah in denouncing STL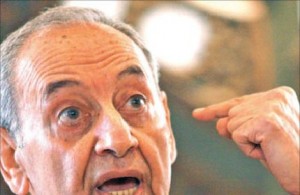 House Speaker Nabih Berri who has been very quiet over the issue of the Special Tribunal for Lebanon (STL) joined Hezbollah in denouncing the court on Saturday and stressed that Israel is aiming to exploit STL in order to create internal strife in Lebanon.
During the reopening of the Bint Jbeil hospital in southern Lebanon, Berri said: "Israel has nothing better to do than create division between the Lebanese."
The visiting ruler of Qatar Sheik Hamad bin Khalifa Al Thani is taking a firsthand look at Qatari-sponsored reconstruction projects that were launched following the July 2006 war.
Emir Hamad traveled by helicopter on Saturday with President Michel Suleiman to the area, which borders Israel. They were met there by Prime Minister Saad Hariri, and Speaker Nabih Berri .
Berri praised on Saturday Qatar's contribution to the rebuilding of southern Lebanon after the July 2006 war between Israel and Hezbollah
Hezbollah commanders and officials including MP Mohammad Raad head of the party's parliamentary bloc were also there to welcome the emir.
The Speaker stressed the commitment towards the Doha agreement and Taif Accord in order to maintain the peace in Lebanon, as well as the importance of strengthening ties with the United Nations Interim Force in Lebanon and implementing resolution 1701.
No one really knows what the contents of the STL indictments will be like , but Hezbollah Secretary General Sayyed Hassan Nasrallah admitted in his speech on Thursday July 22 that some of his party members would be named in the tribunal's formal charges but stressed that he will reject the indictments.
His speech followed a July 20 report in the pro-Syrian newspaper, Al Safir revealed that Hezbollah members will be indicted by STL in the assassination of Hariri.