Hezbollah MP: STL is the second crime after Hariri's murder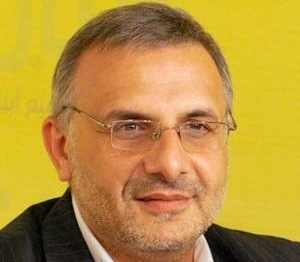 Hezbollah MP Ali Moqdad told NBN television on Wednesday that the Special Tribunal for Lebanon (STL) is the second crime after the 2005 assassination of former Lebanese Prime Minister Rafik Hariri.
"Since Hariri was assassinated, we were afraid the STL would be politicized," he said, adding, "We knew from the beginning that the Hariri killing would shake the entire region, and not just Lebanon."
He added Hezbollah fears that the STL indictments will create internal strife in Lebanon that is why the party is bringing up the issue before the indictments have been made public.
Moqdad said he welcomes the upcoming visits of Arab leaders to Lebanon, which include Saudi King Abdullah bin Abdel Aziz , Qatari Emir Sheikh Hamad bin Khalifa al-Thani and Syrian president Bashar al Assad.
Moqdad said that Israel and the US are the primary benefactors of the Rafik Hariri assassination.
His comments are part of a well organized campaign by Hezbollah and its allies against the STL following a report in the pro-Syrian newspaper, Al Safir which revealed that Hezbollah members will be indicted by STL in the 2005 assassination of Hariri.
In his speech last Thursday, Hezbollah Secretary General Sayyed Hassan Nasrallah admitted that some of his party members would be named in the tribunal's formal charges but stressed that he will reject the indictments . In an another speech he questioned the STL's credibility, calling it an "Israeli project" designed to create sectarian strife in the country.
Lebanese Forces leader Samir Geagea said Monday following a meeting with Prime Minister Saad Hariri at the Grand Serail that those "warning about a strife are the ones preparing for it." He stressed the need to maintain the civil peace.
The tension in the country is reminding the Lebanese of May 2008 , when Hezbollah occupied western Beirut and tried (but failed ) to occupy Mt Lebanon following the cabinet's decision to outlaw Hezbollah's private telcom network and the relocation of an airport officer who was closely associated with Hezbollah. The officer Brig. Gen. Wafiq Shoucair was accused of being behind the intelligence that led to the assassination of several Lebanese anti-Syrian leaders including former MP Gebran Tueni and Minister Pierre Gemayel.