Turkey trying to defuse tension in Lebanon, report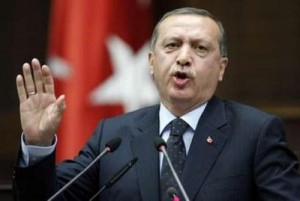 As Safir newspaper quoted informed sources as saying that Turkey is holding regional and international consultations to diffuse the tension that erupted over the issue of Hezbollah indictments by the Special Tribunal for Lebanon and the fiery speeches of Hezbollah leader Sayyed Hsssan Nasrallah.
Turkey's action comes after 4 leaders announced their intention to visit Lebanon starting at the end of this week.
Saudi King Abdullah , Qatari Emir Sheikh Hamad bin Khalifa al-Thani and The King of Bahrain, Sheikh Hamad bin Issa al-Khalifa are reportedly planning to arrive this Friday.
Syrian President Bashar Assad is coming on Aug 3 aaccoding to Hezbollah's al Manar TV
As Safir sources said Turkish envoys are holding meetings in several countries in the region
Some media reports on Saturday speculated that a summit will take place in Lebanon which will be attended by the Saudi King ,Assad and the Qatari Emir , but Kuwait's National News Agency KUNA reported on Sunday that a summit in Sharm el-Sheikh next week will discuss the developments on the Lebanese political scene as well as the ME peace process.
According to KUNA, the Saudi King and Egyptian President Hosni Mubarak will hold the summit.
Hezbollah chief Sayyed Hassan Nasrallah accused some Lebanese in his speech on Sunday of conspiring to end what he described as the untouchable power ( the resistance)".
Also in a speech 11 days ago Nasrallah described STL's indictment as an "Israeli project" designed to target Hezbollah by inciting sectarian strife in Lebanon.
Tension escalated in Lebanon following a report by the pro-Syrian As Safir newspaper last week which stated that the tribunal would issue its verdict between September and end Dec 2010 and that 23-25 Hezbollah members will be indicted . Nasrallah admitted in a speech last Thursday that some Hezbollah members could be named in the indictment, but stressed that he will reject the indictment.
The tension in the country is reminding the Lebanese of May 2008 , when Hezbollah occupied western Beirut and tried (but failed ) to occupy Mt Lebanon following the cabinet's decision to outlaw Hezbollah's private telcom network and the relocation of an airport officer who was closely associated with Hezbollah and who was accused of being behind the intelligence that led to the assassination of several Lebanese anti-Syrian leaders including former MP Gebran Tueni and Minister Pierre Gemayel.