Jumblatt calls for dialogue to reduce tension in Lebanon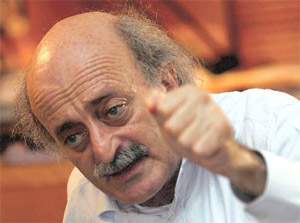 Progressive Socialist Party leader MP Walid Jumblatt called on all rival factions to enter into dialogue in an attempt to defuse the rising tension over the Special Tribunal for Lebanon (STL)'s pending indictment in the 2005 assassination of Lebanon's former Prime Minister Rafik Hariri, according to an article to be published in PSP's Al-Anbaa weekly newspaper
Tension escalated in Lebanon following reports by As Safir newspaper that said the tribunal would issue its verdict starting in September and that 23-25 Hezbollah members will be indicted . Nasrallah admitted that in a speech last Thursday that some Hezbollah members could be named in the indictment.
In a speech 11 days ago Nasrallah described STL's indictment as an "Israeli project" designed to target Hezbollah by inciting sectarian strife in Lebanon.
Nasrallah's speeches caused tension and drawn harsh criticisms, mainly from the March 14 alliance politicians.
Nasrallah also used Sunday's ceremony honoring children of the party's martyrs to attack the Special Tribunal for Lebanon for the third time in 10 days.
He accused the UN investigation team of being formed from officers closely associated with Israeli Mossad spy agency :
"Should an Investigation Committee made of Americans and the British government where investigating officers are brought from intelligence services closely linked to the Mossad be entrusted with a big issue at this level?" , he said.
"For those who forget, let's remember that we were talking to each other at the peak of political divisions and the period of sharp tensions. Why don't we return to dialogue today now that a national unity cabinet has been formed and we gradually returned to constitutional institutions and the national dialogue committee headed by the president?" Jumblatt said.
He urged all factions to return to calm and dialogue in order to prevent Lebanon from "sliding again toward divisions and sectarian tension."
Jumblatt said that the capability to return to dialogue is possible if the factions showed the "political will."