Sfeir is in Kesrouan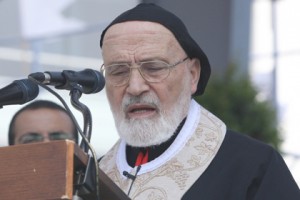 Lebanon's Maronite Patriarch Nasrallah Boutros Sfeir kicked off his tour in Mount Lebanon's Kesrouan district on Sunday, stopping at the Saydet Kawwala church in Oqaibe, MTV reported.
A reception was held in his honor in Oqaibe.
the town of Zeitoun was the next stop in his tour.
He then headed to to the the town of Yahchouch where he unveiled the memorial plaque for the Mar Semaan al-Amoudi church. He said: "Yahchouch is known for the faith of its people and their habits and traditions."
From there he headed to the town of Ghabala where he held a mass in Saint Sarkis and Bakhos Church.
Sfeir is expected to attend a lunch in his honor at former MP Mansour Ghanem al-Bon's home.
Last week MP Michel Aoun called on all his supporters to welcome Sfeir when he visits Kesrwan, but declined to confirm that he will meet the Maronite Spiritual leader.
Last month   Sfeir  traveled to Zahle  where he opened  the new Saint Maroun Cathedral and called for unity and reconciliation among rival Christian factions.