Lebanon minister: Hezbollah is 'accusing itself' of Hariri murder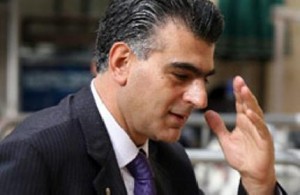 Minister of Social Affairs Salim Sayegh said Saturday that the continuous spy revelations reflect the strength of the Lebanese security services.
"These revelations do not reflect weakness of the security services, but on the contrary," Sayegh told Asharq radio station.
"They show that the security services have for the first time used modern technology and equipment to achieve results," he explained.
Sayegh was commenting on a speech given by Nasrallah on Friday.
Nasrallah linked the Israeli spy arrests to the Special Tribunal for Lebanon.
Nasrallah criticized as "fabricated" the pending indictment of the UN-backed STL court an "Israeli project"
"The Israelis, who today stand impotent before the will, steadfastness, pride and readiness of the resistance in Lebanon are banking on another "Israeli project", which is called the Special Tribunal for Lebanon," Nasrallah said.
A preliminary report by the UN investigating team said it had collected data from mobile phone calls made the day of Hariri's murder as evidence.
A reported in the German Der Spiegel magazine dated May 2009 revealed a link between Hezbollah and the assassination of Lebanon's former PM Rafik Hariri, father of the current prime minister.
STL was formed by the United Nations to try the killers of former PM Hariri , who was assassinated on February 14 , 2005.
Initially Syria was accused of being behind Hariri's murder , but ever since the Der Spiegel report surfaced, all fingers have been pointing at Hezbollah. Many analysts however believe that Hezbollah could not have done it without Syria's help.
Sayegh believed Hezbollah was "accusing itself," and said Nasrallah has issued an STL verdict "in advance."
"It is shameful to say that there is a certain sect in Lebanon that is harboring these spies, whereas this king of talk creates these spies" Sayegh hit back at Nasrallah. Naharnet, Agencies