Iranian based Iraqi cleric meets Assad in Damascus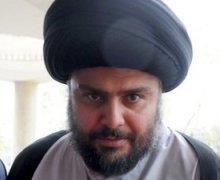 Iraqi Shiite cleric Moqtada al-Sadr visited Damascus on Saturday from his base in Iran for talks with Syrian President Bashar al-Assad on Iraqi affairs.
During the meeting, Assad urged Iraqi leaders to quickly form a government and put an end to a four-month coalition stalemate, SANA the official Syrian news agency reported.
"Any delay to form a (national unity) government will have a negative impact on the situation in Iraq," Assad was quoted as telling his guest, stressing that a new cabinet should be set up "as soon as possible."
SANA quoted Sadr as praising Syria for its support of the Iraqi people.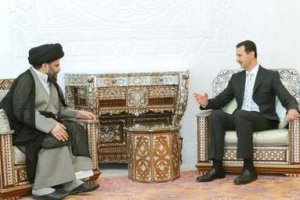 Hazem al-Araji, a Sadr bloc MP, told AFP in Baghdad that the cleric traveled to Damascus "at the official invitation of Syrian President Bashar al-Assad to discuss Iraqi affairs."
Sadr's visit to Syria — his second since July last year — comes after Iraqi legislators on Monday extended an inaugural parliamentary session for two weeks to give political leaders a chance to form a government.
Iraqi politicians have failed to form a new government since former premier Iyad Allawi's narrow victory over incumbent Prime Minister Nuri al-Maliki in the March 7 parliamentary polls. Allawi was supported by the Iraqi Sunnis who are opposed to the return of Maliki to power.
Sadr won 39 seats in the new 325-strong parliament, against 91 for Allawi and 89 for Maliki. All the 3 are Shiite Muslims.
Sadr , who initially was opposed to the return of Maliki as prime minister changed his mind in in May.
The United States has accused Iran on several occasions of using Sadr's militia ( the Mehdi army ) to destabilize Iraq , just like it uses Hezbollah to destabilize Lebanon.
Sadr, the head of the Mehdi Army, admitted on Aug 20, 2007 to "formal links" with Hezbollah.
Last august Syria was accused by the Iraqi government has been used as a launching pad for violence in Iraq. Iraq's foreign minister insisted on 8/31/2009 that Damascus should turn over suspected insurgent operatives and warned failure to do so would be considered "unfriendly." Syria rejected Iraqi accusations.
The tension was sparked by deadly suicide attacks on government ministries in Baghdad.
The U.S. has long been concerned about the infiltration of foreign fighters through Syria into Iraq. Agencies