US grants are unconditional, says Lebanon Justice minister
Lebanon Justice Minister Ibrahim Najjar told LBC TV on Friday that he would reject any condition placed on his ministry in exchange for US grants, adding that these grants were unconditional.
An institute for legal studies was opened in Beirut earlier this week, which Najjar said was funded by the US.
Najjar also said that there are plenty of projects in Lebanon that require financial assistance from other countries and international organizations.
In a related development The U.S. Embassy announced yesterday scholarships for English language teachers in Lebanon who want to participate in online teacher training courses administered by prestigious U.S. universities. Scholarship winners may also be selected to attend a three-week professional development workshop in the United States in 2011! The deadline for applications is July 21, 2010.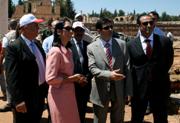 Yesterday also the U.S. Ambassador to Lebanon Michele J. Sison and Minister of Culture Salim Wardy announced a $55,000 grant for the restoration of the historic baths of the Umayyad-era archaeological site in Anjar through the U.S. Ambassador's Fund for Cultural Preservation. Since 2003, the U.S. has provided over $400,000 for cultural preservation projects in Lebanon.