Suicide bombings target a mosque in southeastern Iran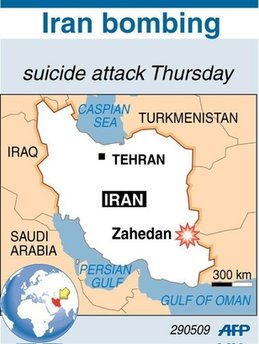 Two blasts tore through a crowd of Shiite worshippers outside a mosque in southeastern Iran on Thursday, killing an unspecified number of people, Iranian media reported.
Iran's official IRNA news agency quoted the deputy governor of the Sistan-Baluchistan province, Jalal Sayyah, as saying the explosions struck near the main mosque in the provincial capital of Zahedan. Sayyah said the blasts "led to casualties and wounded several people," but did not elaborate.
Ali Abdollahi, the deputy interior minister in charge of security, told the semiofficial Fars news agency that the blasts were caused by suicide bombers. He did not elaborate.
There was no immediate claim of responsibility for the blasts.
The Sistan-Baluchistan province shares a border with Pakistan and is home to the Jundallah insurgency, a Sunni group that says it is fighting for the rights of the Baluch minority in Iran.
In June, Iran hanged the group's leader, Abdulhamid Rigi, in Zahedan after he was found guilty of carrying out attacks against civilians, armed robbery, and engaging in a disinformation campaign against Iran.
Jundallah has claimed responsibility for bombings that have killed scores in recent years, including five senior commanders of Iran's powerful Revolutionary Guard last year.
The group gained attention six years ago after it launched a campaign of sporadic kidnappings and bombings that killed dozens. The group claims minority Sunni tribes in southeastern Iran suffer discrimination at the hands of Iran's Shiite leadership.
Iran has accused the U.S. and Britain of supporting Jundallah in an effort to weaken the Iranian government, a charge they deny. Iran also claims the group is linked to al-Qaida, but experts say no evidence of such a link has been found. AP