Aridi to submit report on improving airport security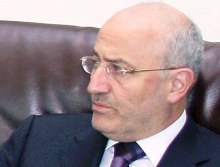 Minister of State Jean Ogassapian briefed the media , following the cabinet meeting which was held Wednesday evening:
Airport Security:
Prime Minister Saad Hariri presented a complete vision to the ministers for overhauling airport security at Beirut's Rafik Hariri International Airport.
The cabinet tasked the Ministry of Public Works and Transportation which is headed by Ghazi Aridi to prepare within 15 days a complete report on the steps needed to improve airport security and procedures.
This comes after the body of Firas Haider, a 20 year old Lebanese was found Saturday by Saudi maintenance workers on the landing gear of a Saudi jet aircraft .
Nas Air flight XY 720 took off from Beirut airport late Friday with 130 people on board and landed Saturday morning in the Saudi capital.
Lebanese-French security pact
Hariri said that the ministers agreed that the Lebanese-French security cooperation agreement is in Lebanon's interest. The PM also questioned the nature of parliamentary discussions on the issue.
This comes after a joint parliamentary commissions meeting on Tuesday to discuss the security cooperation agreement failed to agree on the deal, which addresses bilateral cooperation on all security levels, including fighting terrorism. The issue of the draft security deal caused tension in the parliament when Hezbollah MPs walked out of the session and prevented a quorum.
The PM affirmed the parliament's right to refuse or accept what it wishes, Ogassapian , however, Hariri denied that the agreement contains a definition of terrorism, adding that the Arab Convention's definition is the accepted one.
France considers Hezbollah a terrorist organization
Administrative appointments
Hariri told the ministers that the a list of nominees for administrative appointments should be submitted to the cabinet soon.
Syria's trip
The PM advised the cabinet that he will visit Damascus at the head of a ministerial delegation on Sunday.