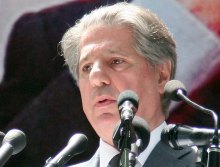 Former Lebanese president and Phalange Party leader Amin Gemayel warned during an Al-Jazeera television interview on Wednesday that granting Palestinians in Lebanon the right to own property would be a step toward their naturalization.
Last month , during an extraordinary session of the parliament the Progressive Socialist Party leader proposed a bill that grants Palestinian refugees in Lebanon civil rights and allows them to own property. The bill was referred by Speaker Nabih Berri to the administrative and justice committee to study and submit recommendation to parliament .
Hezbollah and Amal MPs voted in favor of the bill, while the Phalange party , Lebanese Forces and Change and Reform blocs voted against it.
March 14 alliance have prepared a draft legislation concerning Palestinian rights in Lebanon, which they are currently discussing with various political forces.
According to Gemayel, his party is cooperating with the alliance on the bill.
Gemayel denied that the Palestinian rights is a Christian and Muslim issue. "We all want to improve Palestinians' conditions taking into consideration their right of return," he said.
He added that former Prime Minister Rafik Hariri rejected property ownership because of its potential consequences, referring to naturalization.
The Phalange Party discussed Palestinian labor rights with former PM Fouad Siniora, Gemayel said. "Palestinians have plenty of opportunities in the private sector," he also said, adding that the issue is still under discussion in order to ensure Palestinians have access to better jobs.
Gemayel added that addressing the Palestinian cause is an international responsibility. "Lebanon is not responsible for the Nakba," he said, adding that he does not want Lebanon to bear the consequences of Israel's occupation of Palestine.
Hariri: Naturalization not permitted
Last June Lebanon Prime Minister Saad Hariri said said in a speech at a conference of the Lebanese-Palestinian Dialogue Committee held at the Grand Serail that while Lebanon has social and humanitarian responsibilities toward Palestinian refugees living on its territory, it will not permit their naturalization.
"Lebanon will not abandon the Palestinians and their right of return to their homeland ," Hariri said
"There are humanitarian, social and moral duties that the Lebanese state must fulfill for the Palestinian people," he added.
"But in Lebanon's duties toward the Palestinians, there is no window of naturalization," Hariri also said, adding, "We confirm our commitment to rejecting naturalization and to deal with the issue of weapons in and outside the Palestinian refugee camps."
Hariri, however, stressed that "building the Lebanese state is a priority."
"This small country has paid price in blood for the Palestinian cause, and Lebanon is still committed to this cause," Hariri concluded
This error message is only visible to WordPress admins
Error: No connected account.
Please go to the Instagram Feed settings page to connect an account.