Aoun met Hezbollah chief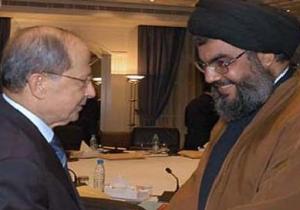 Hezbollah issued a statement in which it said that its chief Sayyed Hassan Nasrallah met with Change and Reform bloc MP Michel Aoun on Wednesday to discuss current developments and cooperation efforts between the two parties.
National News Agency reported Wednesday that Aoun visited Nasrallah along with Energy Minister Gebran Basil. Nasrallah's political aide Hussein Khalil and Hezbollah official Wafiq Safa also attended the meeting
The two sides discussed the draft laws and proposals on the parliament agenda, NNA said.
NNA added that Aoun and Nasrallah also held discussions on the Special Tribunal for Lebanon (STL) .
Participants at the meeting agreed to maintain coordination and cooperation efforts to serve national interests, NNA reported
STL
In a related development Hezbollah deputy leader Sheikh Naim Qassem said the party would deal with accuracy with the Special Tribunal for Lebanon .
"We have decided as a party to deal with the issue of the international tribunal with accuracy," Qassem told al-Binaa daily.
"If it was politicized then we will have a stance. If it was judicial based on tangible evidence then we will have another stance," he told the newspaper.
"We are not accused either as people or as a party," Qassem stressed.
Last week Hezbollah MP Walid Succariyeh threatened STL when he told Al-Manar television that the Special Tribunal for Lebanon will not dare to name any of Hezbollah's members in its upcoming indictments related to the 2005 assassination of Lebanon's former Prime Minister Rafik Hariri.
A Der Spiegel report dated May 2009 revealed a link between Hezbollah and the assassination of Hariri.
STL was formed by the United Nations to try the killers of Hariri , who was assassinated on February 14 , 2005.
Initially Syria was accused of being behind Hariri's murder , but ever since the Der Spiegel report surfaced, all fingers have been pointing at Hezbollah. Many analysts however believe that Hezbollah could not have done it without Syria's help.