Hezbollah obstructs Lebanese-French security deal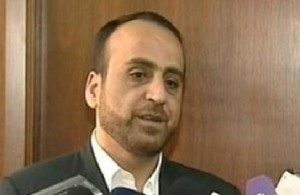 Lebanon's Deputy Speaker Farid Makari chaired a joint parliamentary commissions meeting on Tuesday to discuss a security cooperation agreement between Lebanon and France.
The meeting included Interior Minister Ziad Baroud, Environment Minister Mohammad Rahhal as well as other MPs.
The agreement addresses means of cooperation between the two states on all security levels, including fighting terrorism.
According to Lebanon Files the commission failed to reach an agreement because of the heated debates , objections and the loss of a quorum following the withdrawal of Hezbollah's MPs.
Hezbollah MPs earlier called to either amend or cancel the agreement.
According to eyewitnesses there was tension between Hezbollah MP Nawwaf Moussawi ( pictured) and March 14 MP Okab Saqr over the leaks to the media about the Alfa telecon employee Charbel Qazzi , who was accused of spying for Israel.