Pakistan suicide bombing death toll jumps to 102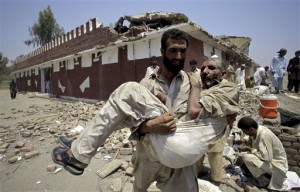 The men and women wailed, stood stunned or wearily sifted through the rubble Saturday for bodies, survivors and answers. Only one thing seemed certain: In the end, the two suicide bombers who killed 102 people in this village didn't bother to discriminate among their victims.
Though anti-Taliban tribal elders meeting officials in a government office may have been the target, it was dozens of ordinary civilians in the Mohmand tribal region who bore the brunt of the strike, Pakistan's deadliest this year. Many had come to the site to receive donated food and goods when the bombs went off Friday.
The attack showed that Islamist extremists remain a deadly force along Pakistan's northwest border with Afghanistan, even when barraged by army offensives or drone-fired U.S. missiles. But such analysis meant little to Adnan Khan, who still could hardly fathom why 10 of his relatives had to die.
"People came here yesterday to receive biscuits and edible oil," the college student said midday Saturday. "I don't know why terrorists killed them."
The attack also wounded 168 people in the village of Yakaghund, which has a population of about 4,000 and lies on the edge of Pakistan's tribal belt and the Khyber-Pakhtoonkwa province. The northwest regions have been dealing with Al-Qaida and Taliban violence for years.
It's a situation the U.S. has watched warily, nudging its allies in Islamabad to clamp down on militants who threaten Western troops across the border in Afghanistan and to destabilize nuclear-armed Pakistan itself.
The attackers Friday detonated their explosives near the office of Rasool Khan, a deputy Mohmand administrator who escaped unharmed. Pakistani Taliban spokesman Akramullah Mohmand called some local journalists late Friday and claimed responsibility, saying the elders were the target. None of those elders were hurt, officials said.
Some 70 to 80 shops were damaged or destroyed, while damage to a prison building allowed 28 inmates — ordinary criminals, not militants — to flee, Rasool Khan said.
People on Saturday kept up the search through the piles of brick and rubble left behind. At least 15 people were still believed to be trapped somewhere beneath, said Ibrahim Khan, a local security official who gave the latest casualty tolls.
Sher Afzal, 22, hopes his uncle and cousin are among those missing who may still be alive.
"My uncle came here to collect his national identity card (from a government office), and he is still missing with his son," Afzal said. "We have checked all the hospitals, but we could not trace them."
The Pakistani army has carried out operations in Mohmand, but it has been unable to extirpate the militants. Its efforts to rely on citizen militias to take on the militants have had limited success there, though elders who have been involved in such efforts have often been targeted by militants in Mohmand and elsewhere in the tribal belt.
The Friday attack was the third this year to kill more than 90 people, and it was the worst attack in the country since a car bombing killed 112 people at a crowded market in the main northwest city of Peshawar last October.
Nevertheless, army operations and U.S. missile strikes are believed to have disrupted militants' activities enough to where attacks in the country have decreased this year so far, especially in the northwest. In the last three months of 2009, for instance, more than 500 people were killed in a surge of attacks across the country. AP