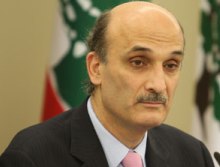 Lebanese Forces leader Samir Geagea said during an interview with Voice of Lebanon on Saturday, that last week's anti-UNIFIL protests in the South revealed the weakness of the Lebanese state.
"The scene in South Lebanon was a militia scene that indicated that there is no state in Lebanon," Geagea said.
He asked if it was acceptable to antagonize troops from friendly nations deployed in Lebanon, pointing out that the residents who assaulted the U.N. Interim Force in Lebanon (UNIFIL) are Hezbollah supporters.
Geagea specifically criticized the targeting of French UNIFIL troops, saying that Paris is "the most ardent supporter of the Lebanese state's sovereignty."
There were "non-Lebanese and non-Arab motives" behind the protests, Geagea said, in a possible reference to Iran and Syria.
He added that the nature of the Lebanese state requires the cabinet and the UN Security Council to deal with the incidents in the South.
"No one believes that the UN troops are attacking the people. In this way, we will lose the support of the international public opinion," Geagea said.
On July 3, a UNIFIL patrol was attacked and overpowered by residents in the southern village of Kabrikha. Officials said the villagers, after one of them had been arrested, pelted UN troops and seized their weapons.
On June 29, residents attacked a UNIFIL vehicle between the villages of Adeisseh and Kfar Kila. The residents blocked a road and hurled stones toward a UN patrol during what officials termed a "maximum deployment exercise." The exercise, meant to ensure troop readiness, was said to have ended on the following day.
"It is incumbent on the Lebanese authorities to ensure the security and freedom of movement for UNIFIL within its area of operation," UNIFIL commander Maj. Gen. Alberto Asarta Cuevas said last weekend.
According to observers south Lebanon is Hezbollah's stronghold and the militant group wanted to send a message through these protests that it is still in control.
Geagea criticized the cabinet : "It is normal for any international force that is under pressure to raise a complaint to the U.N. Security Council, and it is unacceptable that Cabinet issues an apology as if it has nothing to do with the developments."
Naturalization of Palestinians
Geagea said Saturday that the LF and Mustaqbal Movement oppose the naturalization of Palestinians in Lebanon.He added: "We have held long discussions and reached an agreement to reconsider the humanitarian conditions of the Palestinians' living in Lebanon ."