UN security council to discuss attacks against UNIFIL in south Lebanon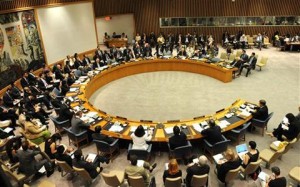 The U.N. Security Council has approved a French request for an emergency meeting on Friday to discuss the latest clashes between UNIFIL troops and residents in southern Lebanon.
French diplomatic sources in Paris told An-Nahar newspaper that the Security Council closed-door meeting will discuss a draft statement prepared by Paris.
The sources said the statement was set to have a "high" political tone."
On Wednesday, the French Foreign Ministry announced that "France will call for a U.N. Security Council meeting over the recent attacks on UNIFIL to again voice its support for its troops participating in the international force."
Spokesman for the ministry, Bernard Valero, said that French Foreign Minister Bernard Kouchner had informed Lebanese Prime Minister Saad Hariri during their meeting in Paris on Tuesday of the need to carefully implement UNSCR 1701 and respect UNIFIL's freedom of movement.
Valero added at a press conference: "Respect is a main condition for the deployment of the peacekeeping force given the recent attacks against the troops in southern Lebanon, which France strongly condemned."
Renewal of UNIFIL mandate
The U.N. Security Council will renew UNIFIL's mandate in south Lebanon "without hesitation" during its July 14 meeting, An-Nahar newspaper reported Thursday.
High-ranking diplomatic sources told An-Nahar that efforts will be exerted to deal with France's "annoyance " during Friday's meeting.
An-Nahar also quoted another source at the Security Council as saying that the UNSC will not discuss new or modified rules of engagement of UNIFIL.
The security source said "there is no doubt that Hezbollah has a hand" in the recent incidents in the South. Naharnet